Mexican Lentil Soup (Lentejas)
This delicious Mexican lentil soup, also called Lentejas in Spanish, is vegetarian, vegan, and gluten free! The best healthy veggie soup to warm up with. Packed with protein, fiber, and veggies, this Mexican lentil soup is a complete one-pot meal.
Last week a couple of my amazing girlfriends came over for mama happy hour. Somehow during our chat, lentils entered the discussion. One gal said she did not like lentil soup at all, after a childhood of not enjoying it. Another said she loves her Mexican mama's lentil soup. If you've been here long, you may know I love making Greek Lentil Soup, Lemony Lentil Soup and Tuscan Lentil Soup.
I was so intrigued by my friend's story of her mom cooking Mexican lentil soup and excited to try it myself. If you love plant-based dishes like this, try my favorite Vegan Chili or Taco Soup next.
Of course, her mom didn't use a recipe. My friend described her mother's Mexican lentil soup process, and it was basically the same way I make my Italian lentil soup. The usual method: saute onions, carrots, and celery. This trio of vegetables is often used to start soups and salads. It's called a soffrito in Italian, and mirepoix in French. I wonder if there's an equivalent word in Mexican cooking. Next, the spices are added, along with the lentils and broth.
Why this Mexican Lentil Soup Recipe Works
Lentils are a staple in my pantry and one of my favorite protein sources, at 18 grams of protein per cup! There are several varieties of lentils, from red to green.
Red lentils break down quickly and become a bit mushy, making them best for sauces and soups, like this Curried Pumpkin Lentil Soup. Green lentils remain firm and whole after cooking. I love green lentils in hearty soups like this Mexican Lentil Soup, used instead of meat in a Bolognese sauce, or in salads like this one.
In this lentejas recipe, the dried lentils swimmer in a flavorful broth of simple ingredients.
How to Serve Lentejas
I love topping this Mexican lentil soup with a few ingredients that add a ton of flavor. Fresh cilantro leaves add a pop of fresh color and flavor. Avocado adds creamy richness, and a few dashes of hot sauce to bump up the heat. I've created this recipe to be mild enough for kids, but you can add as much spice as you like.
This Mexican Lentil Soup recipe makes a nice big pot, so I got to enjoy it for a nutritious, warming lunch the next couple of days. It would make an easy lunch to bring to work in an insulated container if you have extra.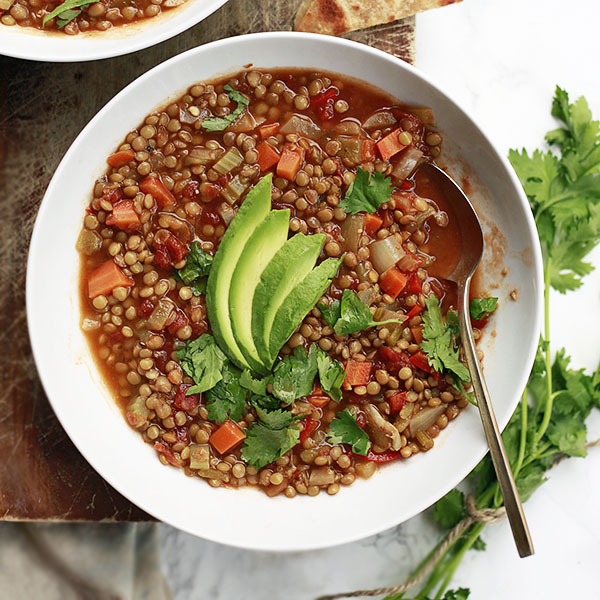 Mexican lentil soup has just the recipe to warm you up on cold nights and just might be my new favorite way to enjoy lentils. Try this Lentejas recipe on your next cold-weather Taco Tuesday.
Yield: Serves 6
Mexican Lentil Soup (Lentejas)
Prep Time 10 minutes
Cook Time 45 minutes
Total Time 55 minutes
Mexican Lentil Soup is a hearty, nourishing, vegetarian and vegan one-pot meal. This is a classic Lentejas recipe that makes a delicious and warming meal.
Ingredients
2 tablespoons extra virgin olive oil
1 yellow onion, diced
2 carrots, peeled and diced
2 celery stalks, diced
1 red bell pepper, diced
3 cloves garlic, minced
1 tablespoon cumin
1/4 teaspoon smoked paprika
1 teaspoon oregano
2 cups diced tomatoes and the juices (I use boxed tomatoes)
2 (4 oz.) cans diced green chiles (such as Ortega)
2 cups green lentils, rinsed and picked over
8 cups vegetable broth
1/2 teaspoon salt
dash (or more) hot sauce, plus more for serving
fresh cilantro, for garnish
1 avocado, peeled, pitted, and diced, or garnish
Instructions
Heat olive oil in a large pot over medium heat. Add onion, carrots, celery, and bell pepper. Saute until beginning to soften, about 5 minutes. Add garlic, cumin, paprika, and oregano and saute another minute.
Add tomatoes, chiles, lentils, broth and salt. Bring to a simmer. Simmer the soup with the lid tilted until lentils are tender, about 30-40 minutes. Season to taste with salt and pepper.
Serve Mexican Lentil Soup topped with fresh cilantro, avocado, and a few dashes of hot sauce.
Nutrition Information:
Yield: 6
Serving Size: 1
Amount Per Serving:
Calories: 235
Total Fat: 9g
Saturated Fat: 1g
Trans Fat: 0g
Unsaturated Fat: 7g
Cholesterol: 0mg
Sodium: 1367mg
Carbohydrates: 32g
Fiber: 10g
Sugar: 13g
Protein: 9g