Melon and Prosciutto Salad {Summer Link Party}
This salad is proof that the best "recipes" are ones using few and simple ingredients that are at their peak. I was never a big melon fan. Or I thought I wasn't. The truth was that I had never had a really
good
melon before. 
One of my favorite meals I have ever had was in  Bologna, Italy. It wasn't in one of the fancy restaurants we dined in, it was just a few things thrown together for a picnic. While my hubby (actually we were not married yet) was in conferences, I spent three days wandering the town with my guide book, determined to hit all the best shops, gelatrie and cafes in town. After a solo glass of Prosecco in Piazza Maggiore, I stopped into
Tamburini
, the best trattoria/deli in Bologna. I picked up some paper thin prosciutto,  pasta salad and some just-baked crusty bread. On my way back to our hotel I stopped at a fruit stand a bought a cantaloupe that had been picked that day. It was heavy, warm from sun, and more fragrant than any melon I had ever held. Back at the hotel for lunch, we cut the melon into wedges and couldn't believe how sweet and wonderful it was with the salty prosciutto.
via Tamburini, Bologna
via
I used a melon baller this time, but don't think I would in the future. A rustic chop is more my style. To make a vegetarian version, substitute fresh mini mozzarella balls. Either way, this is the perfect summer salad. Choose the heaviest and most fragrant cantaloupe you can find. I like Tuscan cantaloupes.
Melon and Prosciutto Salad
1 cantaloupe, balled or cubed, rind reserved
1 handful fresh basil, torn or sliced
1 oz prosciutto, sliced
drizzle of extra virgin olive oil
Toss all ingredients together and place in serving dish or in one of the reserved cantaloupe rinds.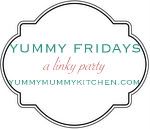 <center><a href="http://www.yummymummykitchen.com" target="_blank"><img alt="Yummy Mummy" src="http://i192.photobucket.com/albums/z217/kidzartmarina/Frame1_02.jpg"/></a></center>